Car Window Replacement – your broken car door window exposes your car to theft. Your valuables and car interior are not protected when using a temporary fix or patch on your broken window. If your car window is broken from road debris or smashed in an accident, calling SameDay Windshield Replacement to repair or replace your window is the most efficient way to get your car or truck window fixed and back on the road.
When you schedule auto glass service with SameDay Windshield Replacement, we can make the repair to your car or truck window wherever is convenient to you! We are local in Austin, Houston, D.F.W and San Antonio and their surrounding areas.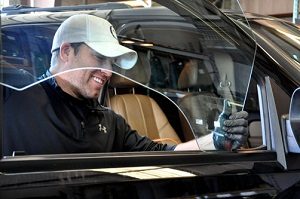 Our mobile auto glass technicians can come to you at the location of your choosing to fix your broken window on site.
How do we replace a car window?
When you come to us for an auto window replacement, our technicians will:
Inspect the damage carefully
Remove the door panel to access the remaining glass
Vacuum any debris and glass from the vehicle
Insert a brand new side window
Test the regulator to ensure the window functions properly
Replace the door panel
Clean all of the glass on your vehicle
The process is easy and stress-free – we promise.
What can I expect when my car or truck windows need to be replaced?
Service from trained, certified technicians
All of our technicians are fully certified to replace or repair your car window
At your convenience
Need us to travel to you? We offer the options of side window replacement. We can travel to your home, work, or location of your choosing
The entire replacement can take as little as one hour and our auto window experts clean up after the replacement so you can get back on to the road as soon as possible.