Rear Windshield Replacement / Truck Sliders Replacement
Rear Windshield Replacement
Your rear windshield (also referred to as; rear glass, back glass, rear window) is manufactured very differently than your front windshield.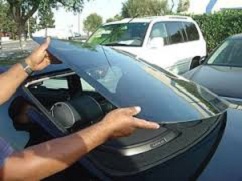 Unlike your front windshield that comes laminated, most side and rear glass are tempered and when struck with enough force will shatter into thousands of little pieces making a mess everywhere. With a large opening in your vehicle, we know that your immediate concern will be keeping the elements out of the vehicle and getting it back to its properly secured state. As soon as the damage happens, bring it to SameDay Windshield Replacement and we will vacuum out all the mess. If we can't get the rear windshield same day then we will seal up the hole with a clear Poly film to keep out the weather.
At SameDay Windshield Replacement we'll act quickly to get your vehicle brought back to new. Our company will make sure that the new rear windshield is ordered properly to have all the proper electrical and technological attachments required for your vehicle's functional capabilities. Give us a call today and bring your vehicle to one of our locations or have our team mobile out to your home or office.
Truck Sliders Replacement
Sliders are found on trucks and are also known as truck slider windows.  Some types of truck slider windows are made of safety glass. These auto glass windows are held in place and secured by metal or plastic latches inside the vehicle.
Truck Slider Replacement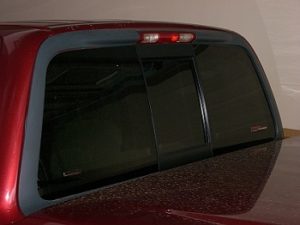 When making a comparison to other types of auto glass, truck slider windows take the place of a rear windshield. This provides a rear view port for truck drivers whose passenger cabins are shorter than the typical passenger vehicle. It also acts like a rear windshield in that the panes are fully contoured to the shape of the vehicle with aluminum frames, providing structural support to the roof of the truck cabin. Truck sliders are typically sealed in with rubber seals that are air and water tight to keep out the elements.
Truck sliders Features
Truck sliders are customizable for each vehicle's make and model. Designs come from the number of window panels and how many slide open to vent the truck, also how the panes are secured and latched.
Tri-panel truck sliders often have one window panel that slides open to vent.
Four-panel truck sliders have two windows that slide along the track, what's known as "duo-venting" truck sliders, this provides the widest possible opening.
The type of tempered or safety glass used in truck sliders can be personalized as well, allowing drivers to choose from solar privacy glass which helps reduce interior heat build-up or privacy tints.